Welcome to the web site of the
EMBO Conference: Wnt Meeting 2016
News:
 7.9.2016     Program updated!!!
17.8.2016  
Please, note that recommended dimensions for posters are 100 cm x 100 cm. Larger stands will be available in limited amount. If your poster exceed these recommended dimensions, inform organizers at wnt2016@sci.muni.cz.
15.6.2016    Deadline for EMBO travel grant applications is extended till 15.7.2016.

6.4.2016      Participants working in India, Taiwan, South Africa or Singapore can apply for additional EMBO travel grant. For more information click here.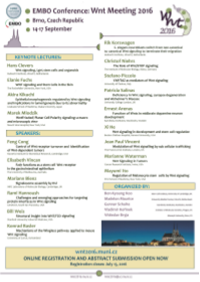 15.3.2016   Preliminary program was updated
!!! REGISTRATION OPENS 1. 2. 2016 !!!
3.12.2015  Conference web pages have been launched